Get ready for a craft beer filled 2019 with 19 of our favourite places to drink a fresh brew and relax with some like-minded people.
Next time you are out on the town wondering where to go or what best to drink, or even need an hours pit stop before heading home after another office day, keep these 19 great craft beer loving places in mind for next year.
Working tirelessly to serve Hong Kongers a taste of the best beer from around the world, these venues go the extra mile to satisfy curious explorers as well as die hard aficionados.
All are equipped with an impressive range of international craft beers and each proudly represent our local breweries, so you can enjoy the freshest possible pint. More importantly, we trust them to pour you a beer and be able to talk about it knowledgeably and enthusiastically.
Hit up 1 every 19 days in 2019, and you'll have visited all 19 within the year (with 4 days to spare) and be ready to go for 20 in 2020! Some of these are fully kitted out taprooms, with walls of draught craft beer just waiting for you.
Craft Beer in Kowloon
1 - Momentai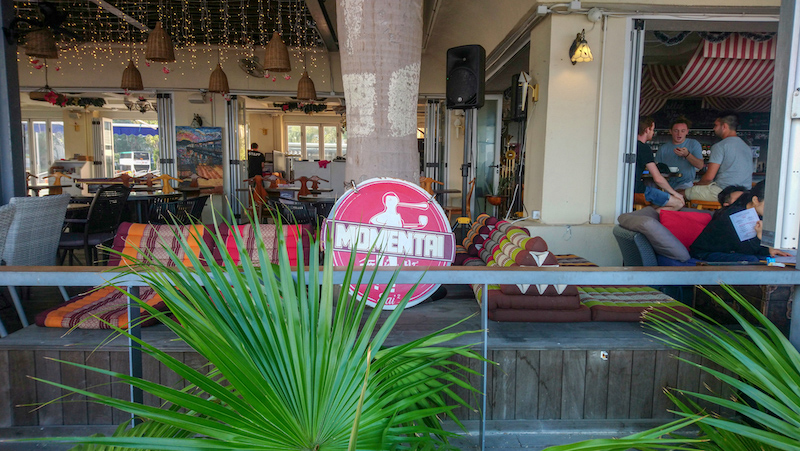 Our good neighbours celebrated their 1 year with a fantastic party inviting local breweries to give out free beer to the people. Momentai is well known for having beer geeks firmly at the helm, guiding the beer menu with the best in specialities, seasonals, and a quality line up of regular and stable local choices. Boasting an unending list of events featuring prominent names in the beer business, they regularly offer nights of live music, quizzes, and anything else to get involved with the Sai Kung community. Not a bad view either.
Sai Kung Waterfront, Wai Man Road, Sai Kung
2 - T.A.P [The Ale Project]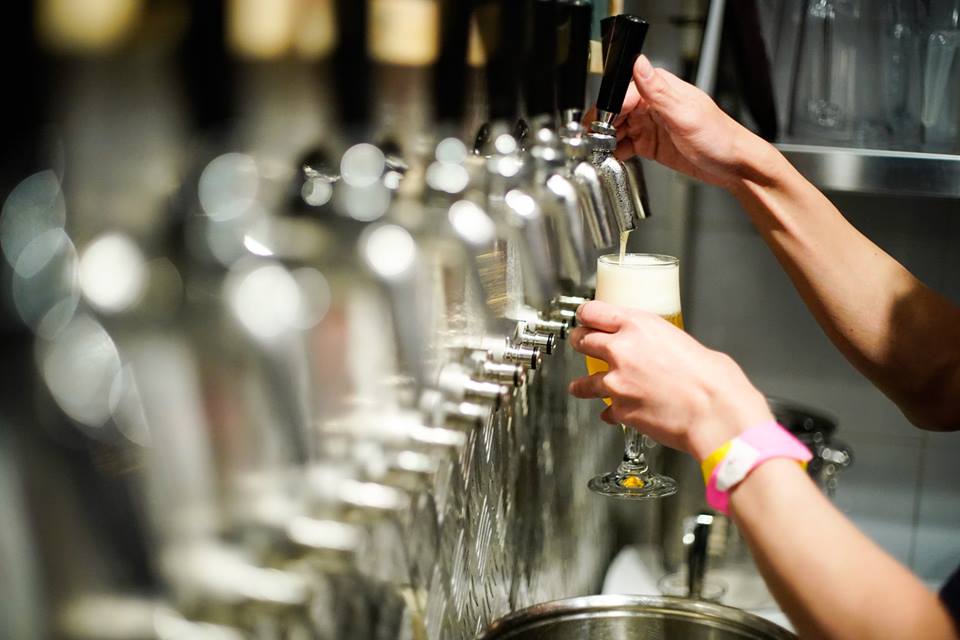 Probably the best known craft beer establishment in Kowloon, and with good reason. The bar is just behind some basketball courts in busy, busy Mong Kok, and the place is always packed. With some locally inspired delectables to chew on while sipping a special glass of craft beer, T.A.P is a firm favourite with locals and expats for generating excitement over the newer brews from our local brands.  
15, Hak Po Street, Mong Kok
3 - Cheers Tap Room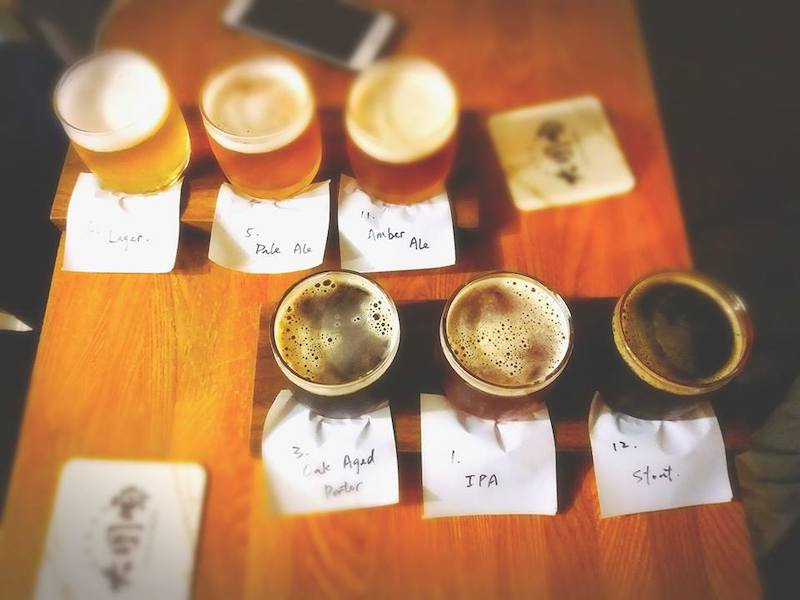 Right next door (literally on the left) to T.A.P Mong Kok, Cheers brings in a local range of uncommon beers, rarely seen in many bars (including this list) like draughts from Lucky Dawgs and (relatively) new kid on the block Hong Kong Whistle. The more relaxed atmosphere is a nice change of pace to the obligatory elbow duelling in T.A.P., and with a clear mission statement to get as many local beers down you.  
13 Hak Po Street, Mong Kok
4 - Madhouse Taproom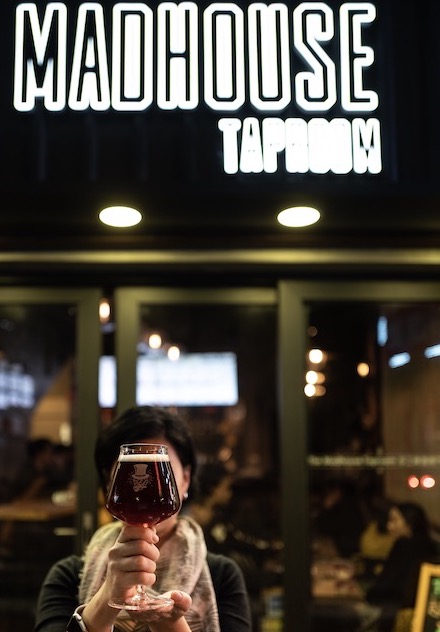 Not far from T.A.P and Cheers, Madhouse Taproom is another establishment that cares deeply about the beer it serves. With a healthy range of local beers on tap, they are also championing a very exciting brewery out of Norway, Amundsen, who make fantastic NEIPAs that are out of this world. Thankfully, Madhouse look to continue to be bringing in their stellar beers to Kowloon regulars.  
16 Yim Po Fong St, Mong Kok
5 - Woft
Just around the corner from T.A.P, Woft is a little bar crowded with high stools and tables and an unyielding range of bottles originating far and wide. The bottle selection certainly outweighs any tap options, but the variety of ever arriving bottles from internationally revered breweries is impressive, and certainly worth a shot if you're looking for new pastures in Mong Kok to graze.
100-102 Shantung Street, Mong Kok
6 - The Oak Crafted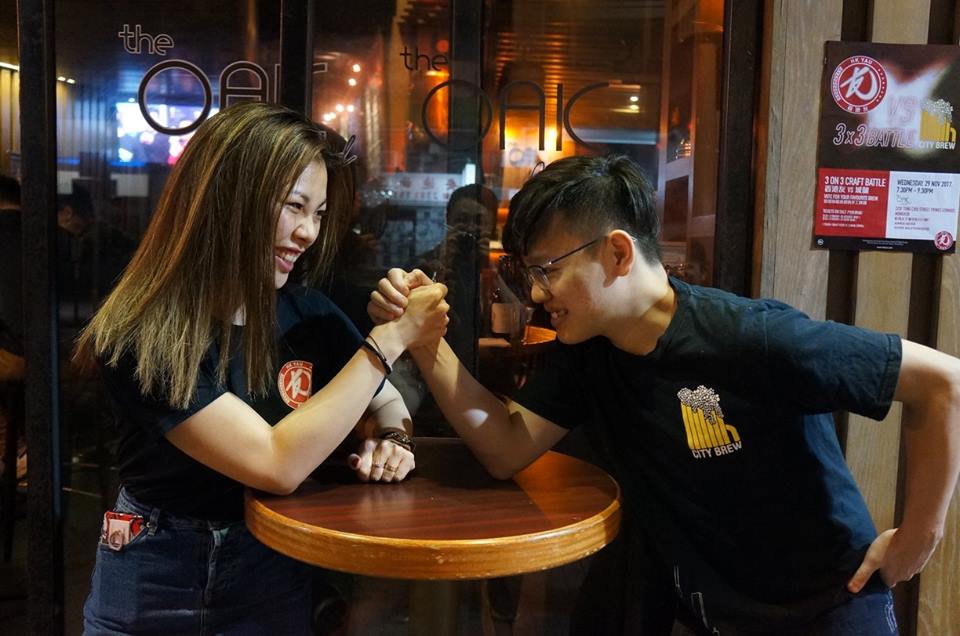 Probably the least likely bar you've heard of, The Oak Crafted displays a resounding love for all beverages craft. Amongst the clatter and clamour karaoke dive bars surrounding the street, the area has had a few new additions in recent years, and is looking to be another drinking hotspot for beer lovers in Kowloon. They regularly put on competitions between local breweries, with blind tasting so there's no cheating!
223 Tung Choi Street, Prince Edward
7 - Kowloon Taproom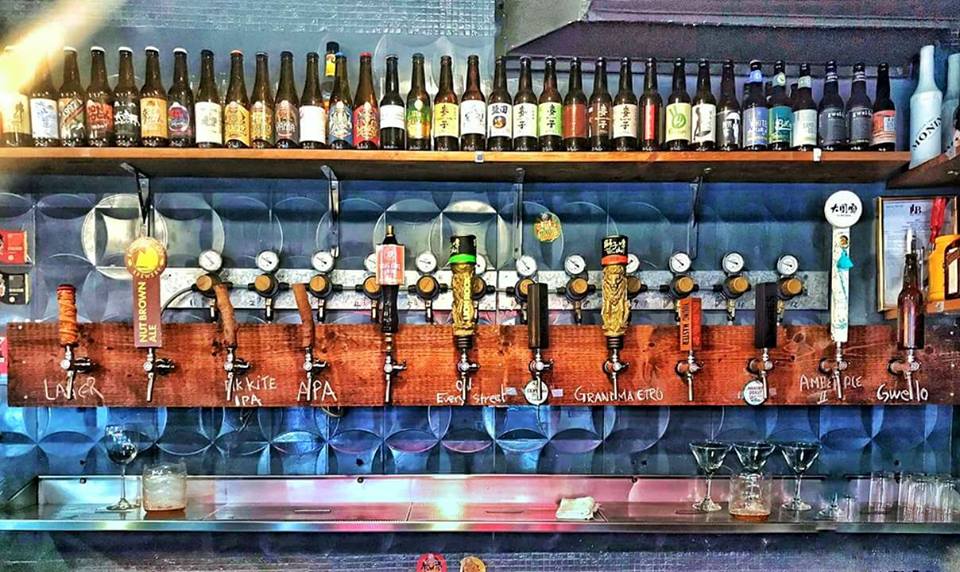 Once the original party zone of HK, Ashley Road has seen its fair share of beer on a short but packed cul-de-sac of eateries. Kowloon Taproom is a no nonsense, beer forward establishment situated halfway along the road, with a view of the street to watch people come and go. The newest and freshest from HK local breweries make an appearance here on the regular, and you won't have much of a wait to get new concoctions tapped for your drinking pleasure.
24-38 Ashley Rd, Tsim Sha Tsui
8 - Zhang Men Craft Brewery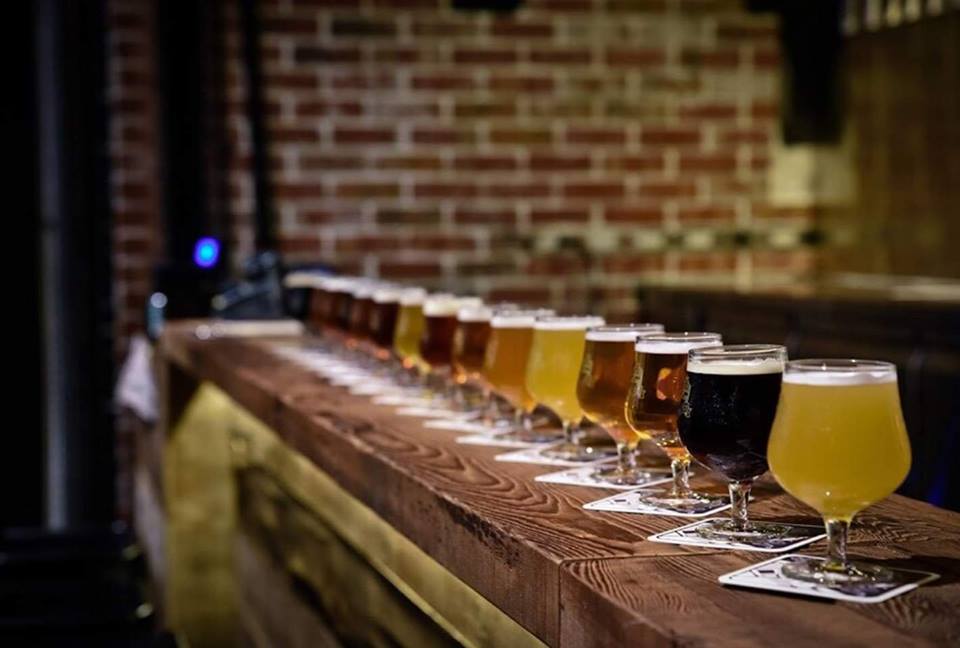 Mostly featuring their own beers straight from Taiwan, Zhang Men serve up what they believe in most. Alongside hosting hilarious evenings involving live English Premier League commentary from MCs, the beer-centric bar offers a few local draughts and bottles from renowned international breweries as guests to pair with their own homemade Taiwanese snacks.
64-66A Kimberley Rd, Tsim Sha Tsui
9 - Madam S'ate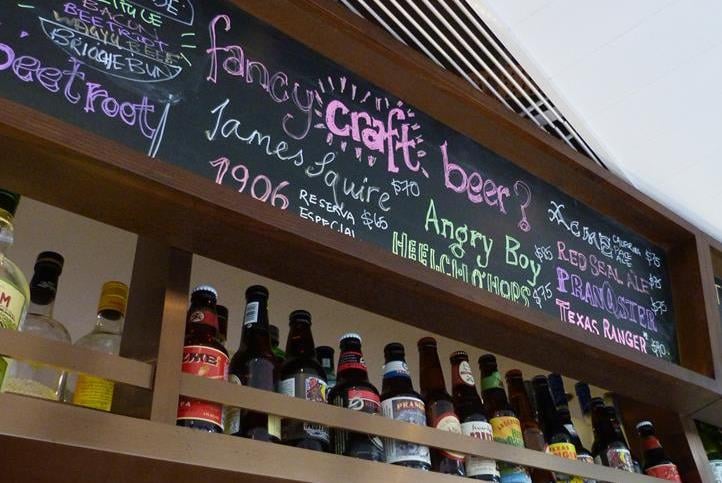 Madam S'ate offers the clientele of Elements in TST the best value and price for genuine beer lovers. Overseen by Chris Woodyard, the curated beverage list is carefully selected for his customers and he personally makes sure everyone is happy with the beer being served there. It's one of the few places listed here where you can indulge in a weekend brunch with a beer that matches in quality.
R009 Austin Rd W, Tsim Sha Tsui
10 - Tipsy Tap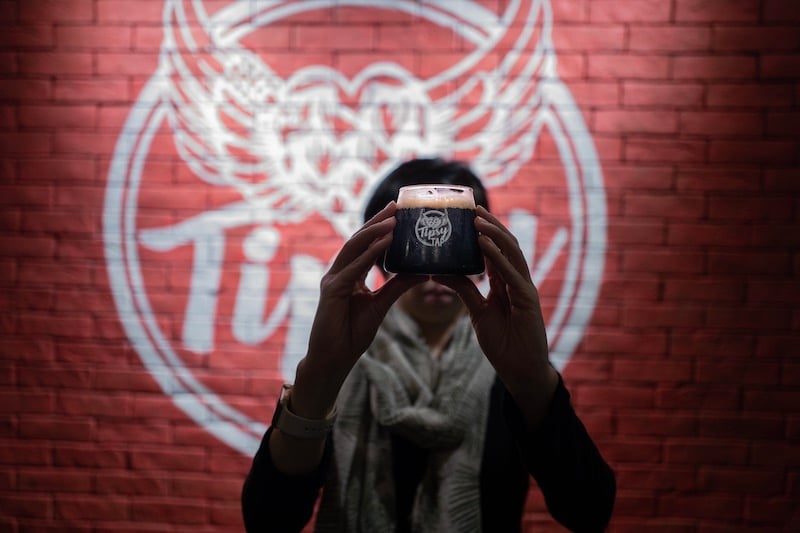 We like a bar that's not afraid to step off the trend train, and Tipsy Tap really cultivate a culture as a taproom guesting the best tasting beers, not just the most popular. A cozy Kowloon environment to relax and enjoy a fresh beer with like minded people.
5 Austin Avenue, Tsim Sha Tsui
11 - T.A.P [The Ale Project] Tsuen Wan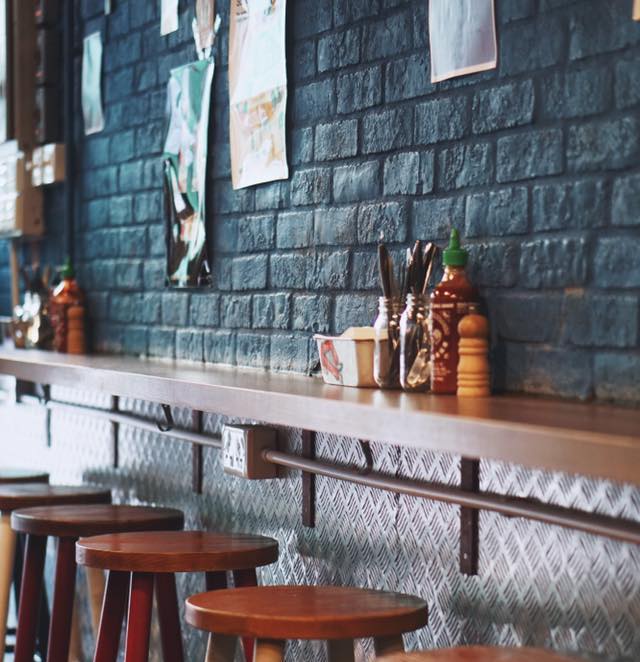 Following the success of the Mong Kok taproom, The Ale Project are opening a new location at The Mills in Tsuen Wan sometime in February 2019. Our friends over in the Western New Territories will have a new beer spot to enjoy without making the trek all the way down to Mong Kok. We hope they continue to show love and support for the limited editions and seasonal specials making their finite rounds.
The Mills, Tsuen Wan
Craft Beer on Hong Kong Island (and Lamma)
12 - The Globe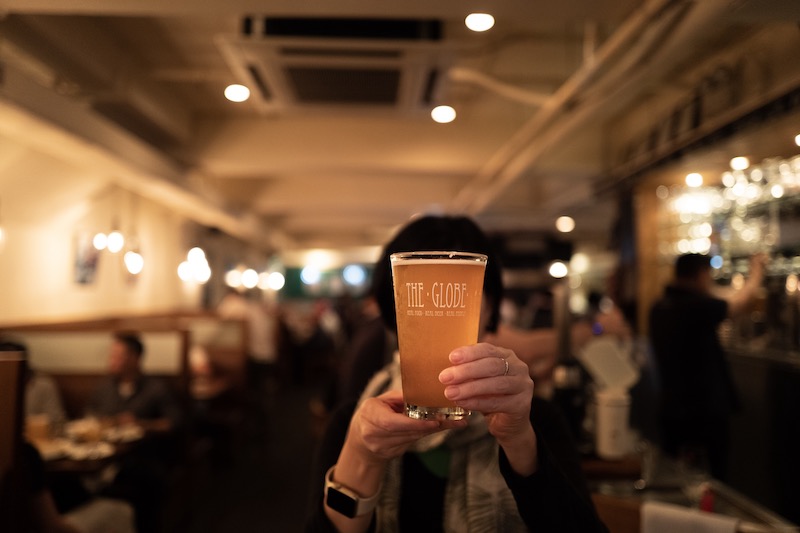 Undoubtedly the go-to for the majority of craft beer fans on Hong Kong island, and topping most online lists of 'Best HK Bars'. The Globe take their beer seriously, and regularly host events (some of them ours!) like tasting evenings and collaborations with local and international breweries showcasing exciting new beers. One of the more impressive bars stacked with taps from old English favourites to new and pioneering beers from all over the world, we as beer drinkers would quite simply be lost without The Globe.
45-53A, Graham St, Central 
13 - 65 Peel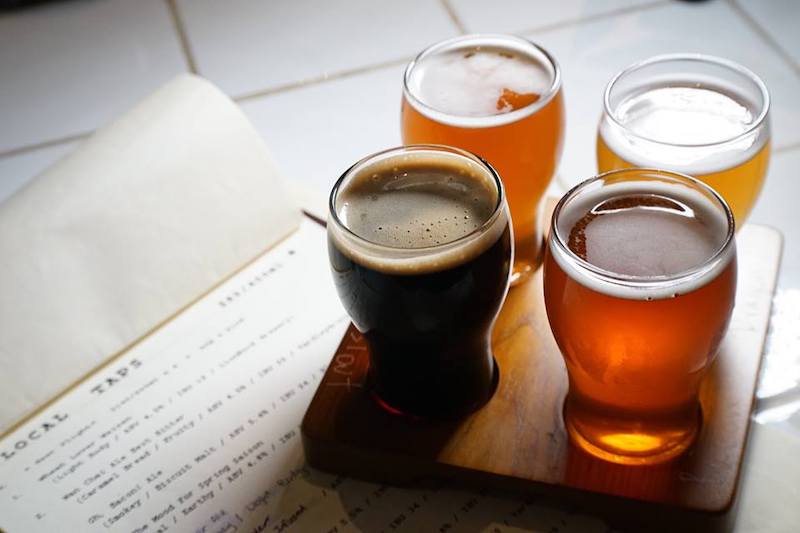 Right on the corner of Peel Street and Staunton, with a glowing pink aura and hip decor that sends you to the heyday of local cha chaan teng living, 65 Peel offers an impressive range of locally focused craft beer with massive appeal to the younger crowd. Just trying to get a seat is a job in itself, and not all that dissimilar from real cha chaan teng living!
62 Peel Street, Soho
14 - 99 Bottles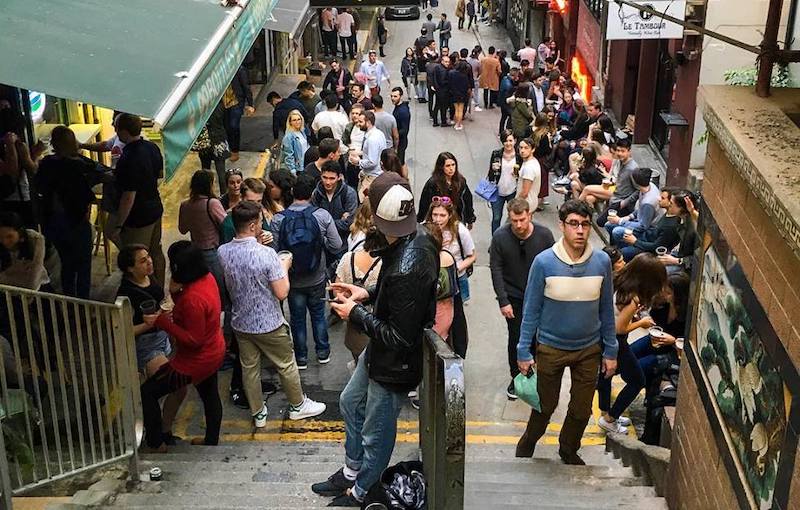 A relatively cheap corner shop option for soho going beer lovers, 99 Bottles offers a great alternative to paying exorbitant prices so establishments can afford to pay rent. A visit to this 'bar' will have you enjoying brews on the street staircase, something few Hong Kong drinking veterans have avoided in their beer sipping careers.
59A Peel Street, Central
15 - Big Sur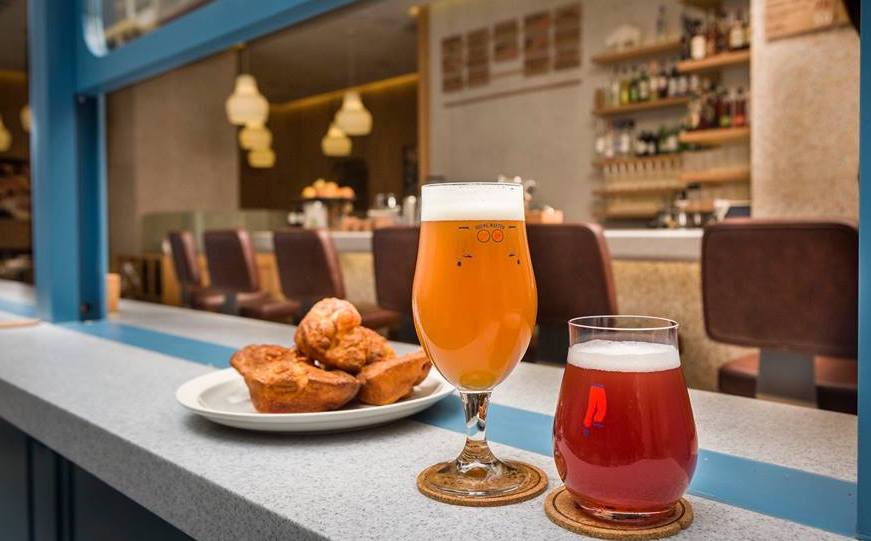 This sleek bar/restaurant has a penchant for launching Young Masters collaborations with their overseas friends, including big names like Cloudwater Brew Co, amongst other international heroes. It's a little more grown up, and somewhere you'd be expected to mind your pleases and thank yous instead of flinging beer mats in competition.
22 Staunton Street, Central, Soho
16 - Hoppy Junction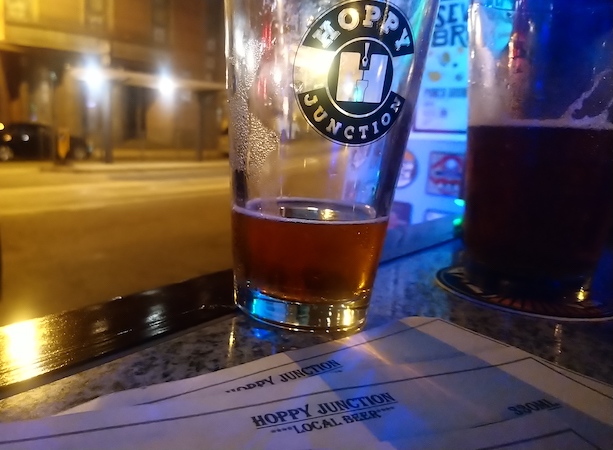 One of the newest bars to open at the time of writing, Hoppy Junction is another establishment inspired to bring the work of our local artisan brewers to the streets and beer fans of Hong Kong. Situated on the ever popular Johnston Road in Wan Chai, the bar has a friendly and welcoming atmosphere perfect for anyone indeed at a junction in their evening, with the passage of time soothed by the ebb and flow of the HK Island Trams. Ding Ding!
2-12A Johnston Road, Wanchai
17 - Second Draft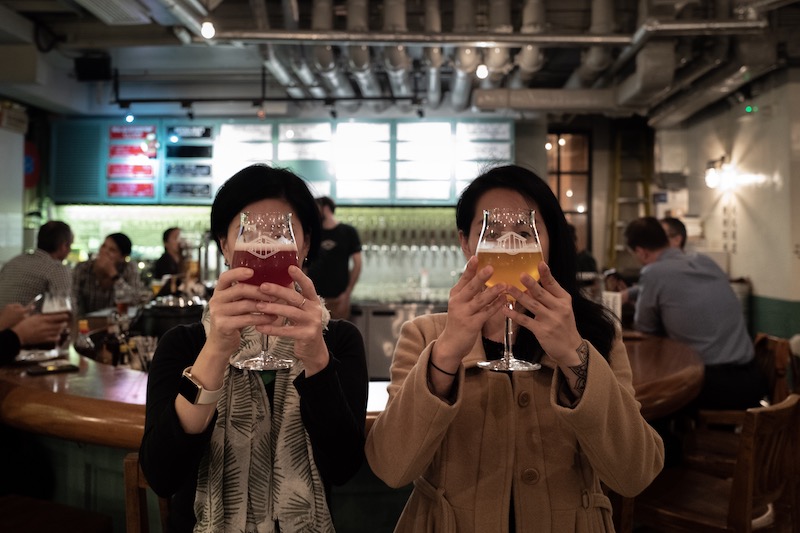 THE craft beer Mecca in recent years, Second Draft are the go-to guest house for visiting international brewers coming to Hong Kong. The bar's central feature is a huge board that hails serious navigation of some of the best thought out selections in HK, and they regularly feature limited editions and newer creations from upcoming breweries like Heroes and Carbon Brews, of course with a strong representation of Young Masters and other heavyweights on the regular.  
98 Tung Lo Wan Rd, Tai Hang
18 - Salt & Barrel
Set up and owned by the crew behind Black Kite Brewery, take a visit to this new place and expect to see their own experiments and limited brews featured frequently. We are working on bringing in some great international beers to their range, and excited to see the extended growth of successful bars on the Western Island.
One, South Ln, Shek Tong Tsui
19 - Lamma Grill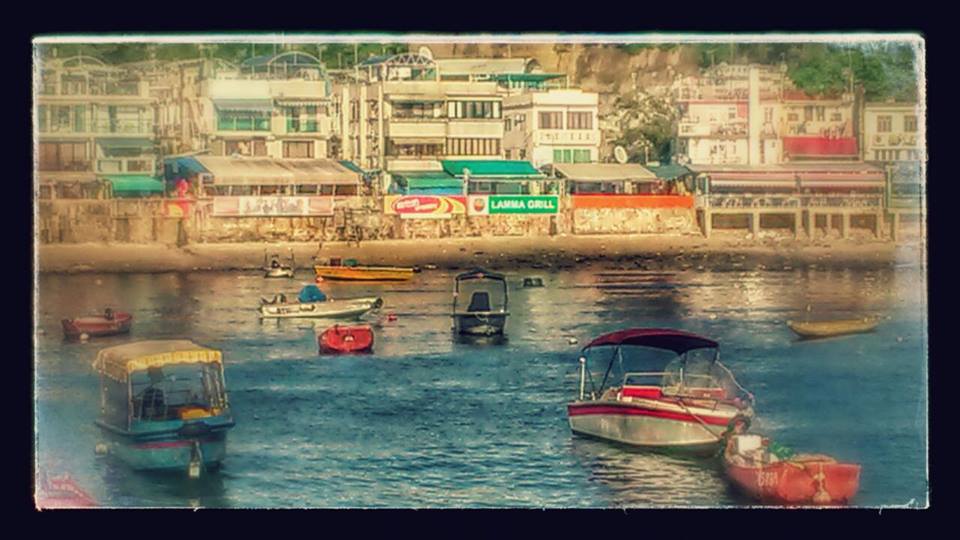 With local guys from Yardley Bros making this island their abode, (while brewing in Kwai Chung) Lamma Grill is a home of their Lamma IPA, worth the ferry journey over from Central. Nested on the main street of bars on the Island (it's not all that big), the big hearts of the people there will have you crashing on a friendly neighbours couch before you hear the last ferry's horn a-booming.   
36 Yung Shue Wan Main St, Lamma Island
And of course, here's a bonus to round off our list to 20 amazing places for craft beer:
20 - The Bottle Shop
Well, we couldn't skip ourselves! While we don't have a bar, we do have the largest selection of craft beers available online and in our store by the waterfront in Sai Kung. Stop by the shop on a weekend in 2019 (or now!) to grab a beer and enjoy our little town the best way we know how.
114 Man Nin Street, New Territories, Sai Kung