Sparkling wine in Hong Kong includes any that is fizzy and carbonated, no matter where it is produced, or what style it is. Actually, even sparkling Japanese sake is considered a sparkling wine. As you can imagine this is a very big category, and it will help drinkers if sparkling wine is seen through their grape varietal, and production method, in order to help you choose which one is right for you.
La méthode traditionnelle (Methode Traditionelle) 
This is called the "traditional method", which means sparkling wines that are produced like the regulated traditions of champagnes. This involves a process of secondary fermentation in the bottle for an extended period of time, it is aged on lees (yeast), disgorged, and finally bottled again. The process of ageing encourages yeast autolysis, where dead yeasts are digested by their own enzymes, producing amino acids, proteins, and carbohydrates, contributing to those highly valued, and unique flavours of toast, brioche, biscuits, and so on.
Commonly found Methode Traditionelle sparkling wines in Hong Kong include Crémant varieties from regions of France outside of the Champagne region, these include Crémant de Loire, Crémant de Bordeaux, Crémant d'Alsace, Crémant de Bourgogne, Crémant du Jura, Crémant de Savoie, Crémant de Die, Crémant de Limoux, along with Crémant de Luxembourg (outside of France). Crémant sparkling wines tend to have similar characteristics to Champagnes, as they are produced and processed in the same way; albeit with a few exceptions. An important difference is the mandatory bottle ageing period, which is nine months for Methode Traditionelle compared to 18 months for Champagne. Additionally, each Crémant region has different grape varietals, for example Crémant uses Pinot Blanc, Pinot gris, Riesling, Pinot Noir, etc, while Crémant de Loire uses Chenin Blanc and Cabernet Franc. The selling point of Crémant sparkling wines is that they have similar flavours and characteristics to bubblies, but at a fraction of the price, perfect for everyday drinking and for parties.
Aside from Crémant, there is another very popular Methode Traditionelle type, and that's Cava; from Catalonia in northeast Spain near Barcelona. Cava is commonly made from grape varietals Macabeo, Parellada, and Xarel·lo. Cava is mandated to bottle age on less for a minimum of nine months, for Reserva Cave fifteen months (similar to non-vintage champagnes), and for Gran Reserva Cava thirty months. Flavour profiles of Cava include exotic citrus and stone fruits, floral notes like bergamot and chamomile, some nutty notes or yellow apples, and of course toast and biscuit. As an alternative Methode Traditionelle sparkling wine in Hong Kong, Cava is considered one of the most popular drinks for parties and everyday consumption.
Some other common Methode Traditionelle varieties in Hong Kong include those from countries like Australia, New Zealand, England, South Africa, and South America Chile and Argentina.
Prosecco
Whether you're searching for sparkling wines online or in a physical store, Prosecco from Northeastern Italy is the most popular locally. A bottle of Prosecco can have up to a maximum of 15% of other varietals, but the main grape varietal for Prosecco is Glera, or Prosecco - they are literally the same thing. There are tiers of quality and labelling for Prosecco, and the most basic is Prosecco DOC, and stricter quality standard is Prosecco DOCG. Some notable Prosecco producing regions include Trieste DOC, Treviso DOC, Conegliano Valdobbiadene Prosecco Superiore DOCG, Conegliano Valdobbiadene Prosecco Superiore Rive DOCG, and Valdobbiadene Superiore di Cartizze DOCG.
Prosecco is produced by the tank method, meaning that it is naturally carbonated inside the fermentation tanks. It is usually aged up to three months, filtered, dosed with sugar, and bottled. Because of the short ageing period, Prosecco tends to taste more "yeasty", with brighter fruit flavours. For more premium Prosecco, makers extend the ageing period to create a more creamy mouthfeel and flavour.
One confusing point about Prosecco online or in a shop is its labelling for sugar levels. Many drinkers mistake "Extra Dry" or "Dry" as having less sugar than Brut. The word "Dry" can be misleading, but as the illustration below shows, "Brut" has the least sugar in sparkling wines found in Hong Kong, the sugar level progressively increases as shown below, to "Dry" and "Demi-Sec".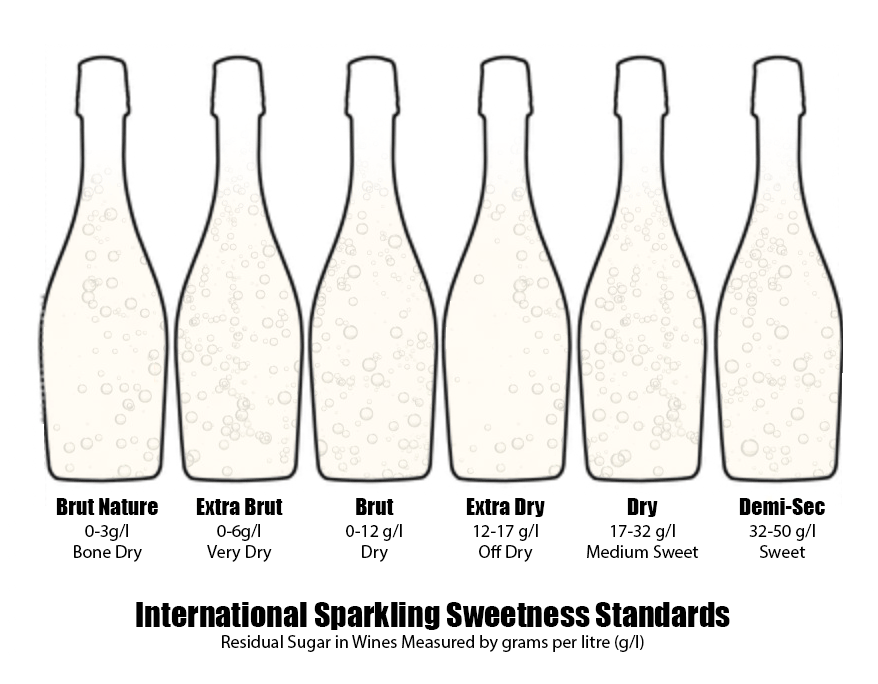 Moscato d'Asti
One of the most popular sparkling wines in Hong Kong is Moscato. It is especially popular because it's got a simple sweet fruity profile, including peaches, orange blossom, honeysuckle, mandarin orange, etc. There are two other factors that make it very popular. The first is its lower alcohol level of 5.5% to 8% abv, which makes it suitable to even non-drinkers. The other is its relatively lighter levels of carbonation. The bubbles in Moscato d'Asti are called frizzante in Italian, the fine bubbles don't fill the drinkers up with carbonation like other sparkling wines. Whilst Moscato d'Asti is considered semi-sparkling (light bubbles), Asti Spumante (sparkling) has normal levels of carbonation like those sparkling wines mentioned earlier.
Moscato d'Asti is made from Muscat grapes, which is one of the oldest grape varietals, it's so commonly grown that it's even available in Hong Kong as fruits for consumption. Moscato d'Asti in Hong Kong perfectly pairs with the local cuisine, or even other Asian food like Thai and Vietnamese. The wine handles spicy foods, and it goes extremely well with chicken and other white meat like pork, and seafood.
Sparkling Wines from Us
Given the variety of sparkling wines online, it's not surprising you might be left unsure which one is best for you. Feel free to contact us via email, call us, or come into our store. As a place to find everyday sparkling wine in Hong Kong, we try to house all the important categories, to ensure we accommodate all our customers. Our orders are delivered the next day if they are placed before 3pm. Because sparkling wines require a longer chilling period for the carbonation to securely lock inside it, we normally deliver our sparkling wine chilled so that you enjoy immediate consumption.